How to open an account and get a Global Ukraine Banking card
Your card from the Global Ukraine Banking App is coded for victory!
Global free and unlimited transfers between holders of Global Ukraine accounts and cards.

The winning design of the Global Ukraine card
Belonging to the Global Ukraine community means creating new opportunities for the rapid growth of your initiatives and business!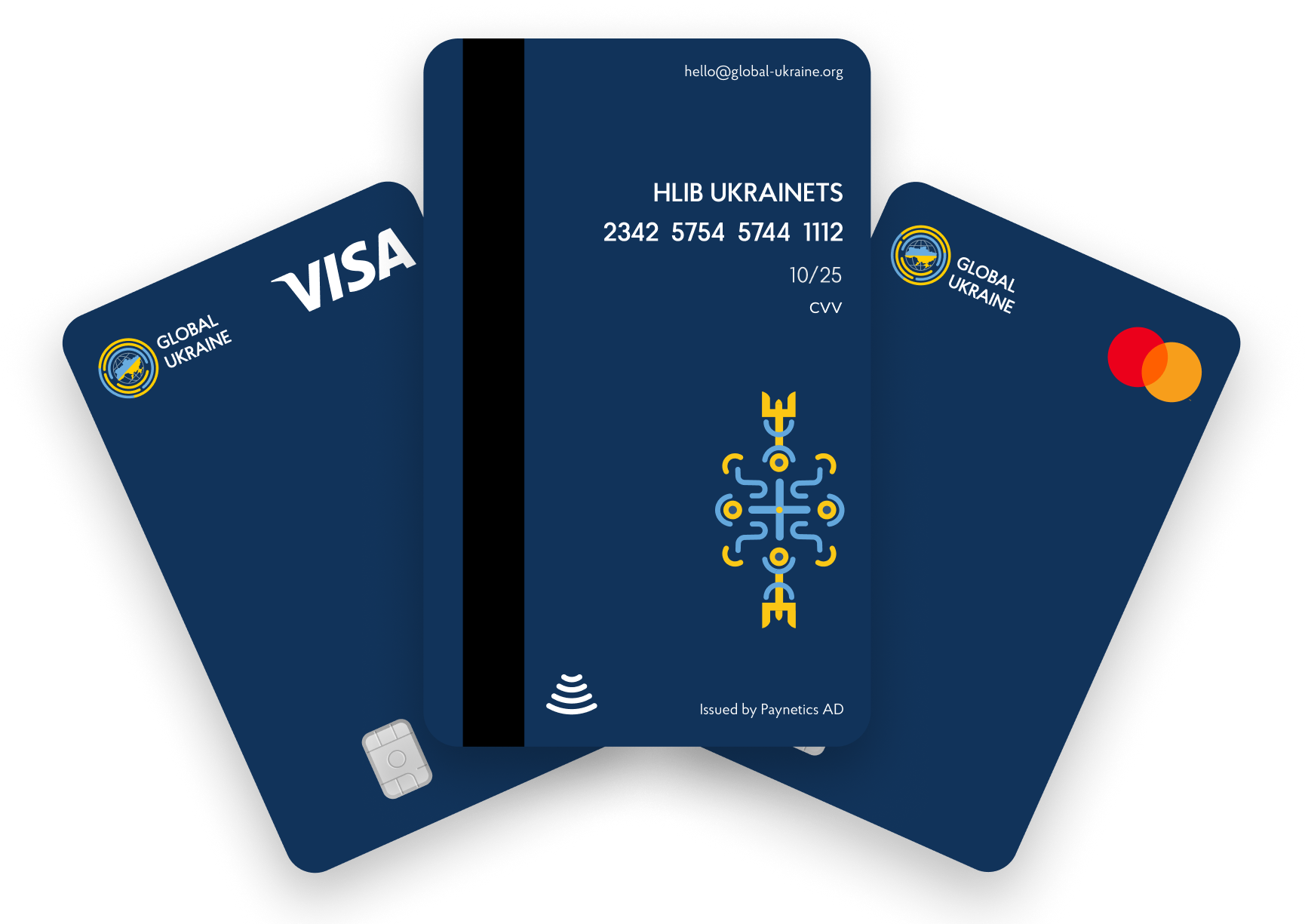 Bank account of the FOP in the Eurozone
To open an account, you must present a valid identity document and address in Europe (permanent or temporary).
Virtual and physical cards
Save money and avoid commissions: you can order several cards (virtual and/or plastic) for one IBAN and define a certain monthly spending limit for each one, depending on your needs.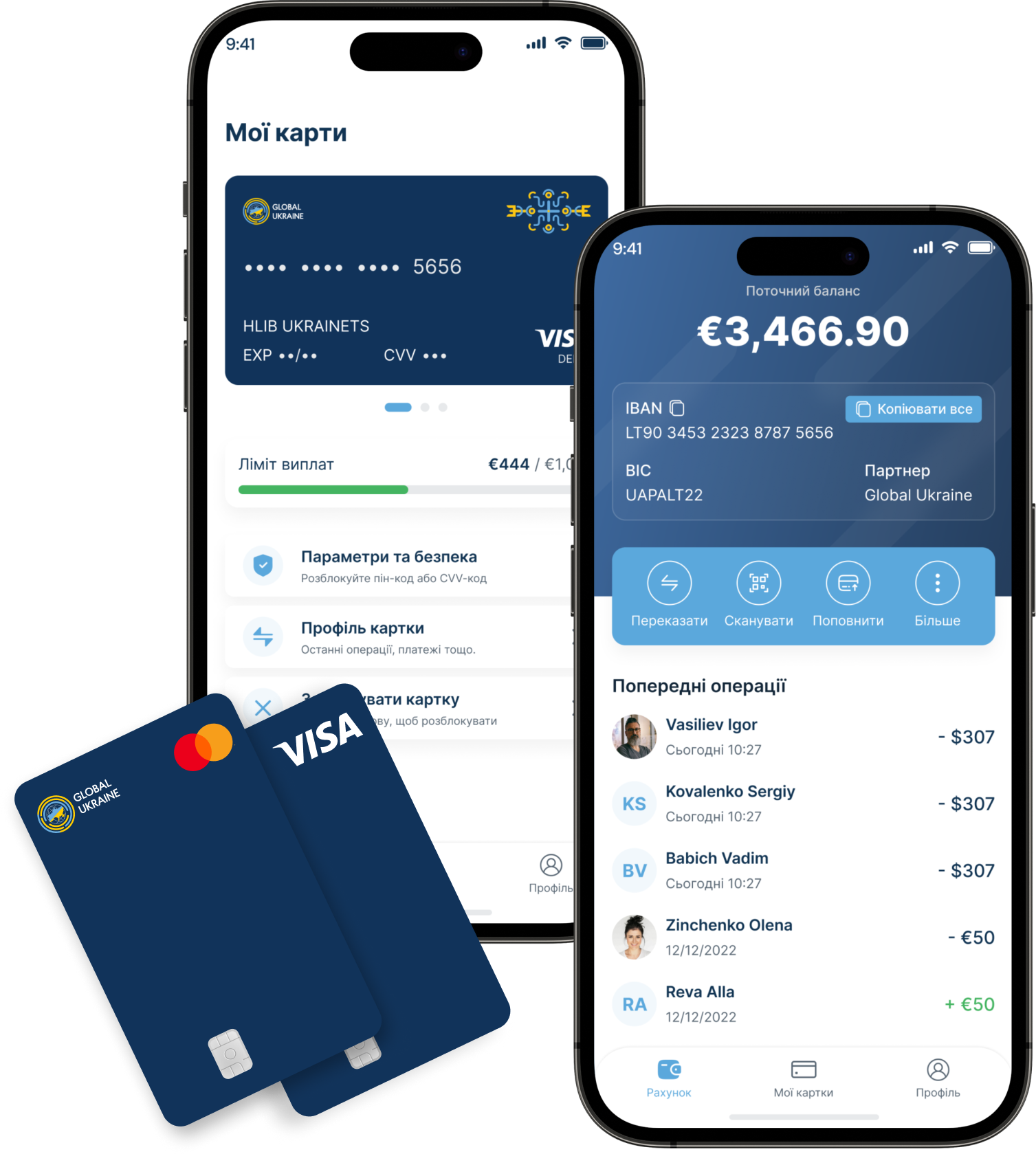 Choose the most convenient tariff plan for
growth of your business (more details in the application)
Take a free 15-day trial until 10/30/2023
Support of Ukrainian communities
Half of the profit of the Global Ukraine Banking will be addressed to the support of Ukrainian communities in the world!

Dr. Violeta MOSKALU
Founder of Global Ukraine
The last 10 years, our mission is to create a solid foundation for increasing Ukrainian influence in the world.
Our project Global Ukraine Banking offers convenient and safe banking for:
Ukrainians in Europe who need a European bank account for management of operations in euros.

To Ukrainian private entrepreneurs in Europe who work with European or international partners and seek financial stability, without conversion commissions and restrictions of national banks.

To Ukrainian charitable foundations, so that the Ukrainian diaspora in Europe can make more donations without any commissions.

To all Ukrainians who support the creation of the Ukrainian global financial system, with free transfers, loyalty programs and the ability to generate social cashback for the development of Ukrainian communities all around the world.
The Global Ukraine Banking App is an important step towards the creation of this Global Ukrainian ecosystem, when volunteer movements, Ukrainian businesses and communities work together to bring Ukraine closer to victory. Half of the profits of the neobank will be directed to the support and protection of Ukrainian communities worldwide.

Stanislav PRUSSOV
Ukrainian Private Entrepreneur (FOP)
The success of Ukraine begins with the success and growth of each of us. When your business brings profit, you pay taxes, donate to support Ukraine and contribute to victory. Therefore, for Ukrainian private entrepreneurs, which cooperate with international customers, want to remain Ukrainian and help their country - the Global Ukraine Banking App is the optimal solution!
Having become a client of the fintech startup Global Ukraine, cooperation with international partners became much easier for me.
The application allows you to manage your finances in a simple way, with the same guarantee and security as in European banks.
You can open several cards with one IBAN for all your needs, and transfers between Global Ukraine accounts are unlimited and free.
I advise everyone to download the application and discover all its advantages! Especially since the Global Ukraine Banking App propose free trial period for new users.

Nadia TOROUS
Vice-president of ELU NGO (France)
Ukrainians have been studying, working, and creating in Europe for decades. At the same time, they do not sever ties with Ukraine, investing in various business, scientific and cultural projects.
Support of student exchanges and the volunteer movement have always been important for our non-governmental association ELU (Exchanges Lorraine Ukraine), and with the beginning of the war became a priority.
We very quickly faced up with the problem of financing all types of projects. We need a bank that is not only inexpensive and efficient, but also reliable, because transparency, trust and reputation are the main components of success of charity projects.
And we are very happy that finally we have such a bank, which is created by a team of professionals who sincerely believe in the well-being and development of Ukraine as an integral part of Europe's success.

Gennadiy DRUZENKO
Co-founder and president of Mykola Pyrohov First Volunteer Mobile Hospital
At the beginning of the war, we faced up with a problem when more than a half of the donations from abroad, directed to Mykola Pyrohov First Volunteer Mobile Hospital, couldn't be transferred to Ukraine. Banks of the USA, Canada, UK and the EU blocked these transactions as suspicious. We need that donations "here and now", but it took several weeks to receive them.

Therefore, it is extremely important for Ukrainians to have their own financial payments' institution in Europe.

And it should be an EU bank and a Ukrainian bank at the same time - with all the guarantees and reputation of a European bank and the technology of a Ukrainian bank.
Mykola Pyrohov First Volunteer Mobile Hospital is looking forward to becoming one of the first clients of the Global Ukraine Banking services.
Legal issues and consultations
Our goal is to allow Ukrainian FOP (PEs) in Europe to remain Ukrainian and pay taxes in Ukraine!
Does the current legislation of Ukraine allow FOP residents to open accounts in financial institutions of other countries?
From the analysis of legislative norms, it can be seen that the current legislation of Ukraine does not prohibit the PE resident of Ukraine from opening accounts in financial institutions of other countries.
What is the maximum amount that an FOP resident of Ukraine can receive on an account in a foreign bank without currency control?
An PE resident of Ukraine can receive funds in an amount not exceeding 400,000 hryvnias for one transaction, to an account opened in a foreign bank, without falling under currency control.
What factors affect the determination of the tax residency of a sole proprietorship in Ukraine?
As a general rule, a sole proprietorship that is registered in accordance with the legislation of Ukraine remains a tax resident of Ukraine, but it is worth considering all factors in aggregate, taking into account the individual situation of each sole proprietorship.
Open an account!
Register in a short form to be among the first thousand Ukrainians who will receive a Euro account in Europe and a unique branded Global Ukraine card, which is branded for victory! We will send you a message when you can open your account in the Global Ukraine Banking App!